Venue:
Budapest
Dates:
19-27 August
Coverage:
Watch live on BBC One, BBC Two, BBC Three, BBC iPlayer, BBC Red Button, BBC Sport website and app; listen on BBC Radio 5 Live and BBC Sounds; live text on evening sessions.
Sha'Carri Richardson's dramatic 100m victory at the World Championships is a very significant moment in her career – and a weight off her shoulders.
What it means for the future is uncertain but there is no doubt the 23-year-old has the talent to become a serial champion.
Whether she can deliver on that depends on the American's ability to put behind her the things that have caused her to be inconsistent in the past.
What we witnessed from Richardson on Monday night represented everything we have seen from her since she first came on to the scene in 2019.
We have seen her fail dramatically to produce times that she should be able to easily produce. Just last year, at the US World Championship Trials, she was eliminated in the first round.
The way her competition unfolded was incredible. We saw both sides of Richardson as she went from almost crashing out in the semi-finals to running a championship record 10.65 seconds and beating the best in the world to gold from lane nine.
We have always known Richardson has huge potential.
But the issues she has faced have been very public and, whether she would admit this or not, there was a tremendous amount of pressure on her to eventually deliver on all of this talent.
Richardson splits opinion globally – and in America too. There are people who understand that she has had a difficult time.
She came to the public's consciousness in a major way two years ago, winning the US trials in emphatic fashion.
The very next day it all came crashing down because of a positive test for marijuana.
Because of the rules in place – outdated in my view for a non-performance-enhancing substance, legal in many places in the US – she lost her place on the Olympic team. Many saw it as completely unfair but perceptions have been divided.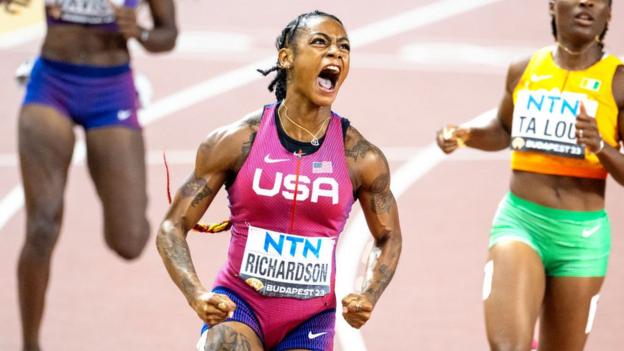 It is good for the sport to have two dynamic personalities in Richardson and men's 100m champion Noah Lyles at the very top.
While that alone will not save the sport, it will draw greater attention from sports fans and media.
The odds are that fellow American Lyles will go on to win the treble he targeted in Budapest. He is the best 200m runner in the world and has been on fire this year.
The men's 4x100m is a little bit more tricky. The US certainly have a talented team but that does not guarantee victory in the relay.
Zharnel Hughes will probably have to run another personal best to make the podium in the 200m.
The British sprinter has put his demons behind him. All year we have seen him perform like a different athlete and I think he has figured out how to harness his potential.
Making the 100m podium could be a big moment for him – but I believe he could have won and I think he knows that too. He will carry that into next year as he targets the Paris Olympics.
If I had to predict the outcome of the men's 200m, which begins on Wednesday, it would be Lyles' first followed by a battle for silver between American 19-year-old Erriyon Knighton and Botswana's Letsile Tebogo, 20.
I'm excited by the competition I expect we'll see between those three athletes going forward. Knighton and Tebogo are still very young and have bright futures but Lyles, still only 26, remains well ahead.
Based on her performance in the 100m, I think Dina Asher-Smith is carrying a little bit of an injury.
Being a British athlete comes with a tremendous amount of pressure and it is tough for many to deal with. The former 200m champion likes to control her own process and keep things internal. It has worked for her in the past.
While the issue is not keeping her from competing, it is certainly affecting her ability to compete at the level she would expect.
Asher-Smith's eighth-place finish was not the performance we expected to see and it's difficult to imagine the 27-year-old now making the 200m podium.
In that event, reigning champion Shericka Jackson is going to be out for revenge because she really wanted to win the 100m.
The Jamaican and Gabby Thomas have a great rivalry going on, while Richardson, fresh from her first global gold, has run the fourth-fastest 200m this year after St Lucia's Julien Alfred.
Michael Johnson was speaking to BBC Sport's Harry Poole.