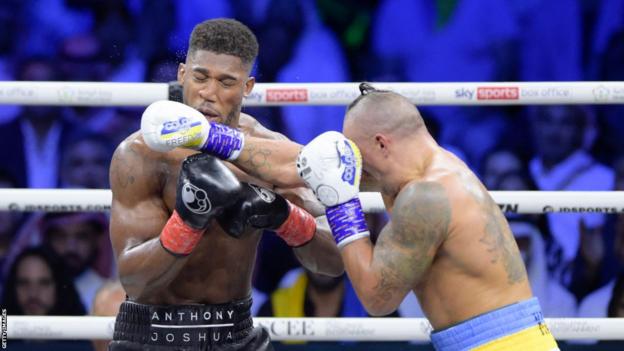 Venue:
O2 Arena, London
Date:
Saturday, 1 April
Coverage:
Radio commentary on BBC Radio 5 Live from 22:00 BST; live text coverage on the BBC Sport website & app.
Boxing analyst and former two-weight world champion Carl Frampton writes for BBC Sport about Briton Anthony Joshua's fight against Jermaine Franklin at London's O2 Arena on Saturday.
Former world champion Joshua makes his return after losing his rematch with Ukraine's Oleksandr Usyk in August.
Can Joshua go back to winning ways or will American Franklin cause a huge upset?
Anthony Joshua has to not only beat Jermaine Franklin at the O2 Arena on Saturday, he has to win in style.
<
A points win is not good enough. I want to see him get rid of Franklin early, stand in the ring and call out Tyson Fury.
Fury-Joshua is still huge. A massive fight not just for British boxing but also on a global stage.
A loss, and I think that's the end for Joshua. Where does he go from there?
But I don't think that will happen. This is a fight where Joshua can get the confidence back a bit. After consecutive losses to Oleksandr Usyk, that's what the big man desperately needs.
The perfect comeback opponent for Joshua
This is the perfect type of fight for Joshua to come back to – an opponent who is credible enough. I actually thought Franklin beat Dillian Whyte in his last fight, although he didn't get the decision.
But in terms of a heavyweight boxer, he's got 22 fights with 14 knockouts. It's a nice ratio for a featherweight, but not necessarily for a heavyweight.
Linking up with Derrick James and basing his training camp in Texas is a good move for Joshua, and perhaps one he should have done before now.
Get away from the UK and from home comforts – have that camp mentality and not so many yes men around you.
Joshua is also in a gym full of good champions, with the Charlo brothers, Jermell and Jermall, and Errol Spence Jr. It's probably the first time in AJ's career he's not been the top dog in the gym.
He's got world champions there and it'll be good for him. He can feed off that.
If you look at the style of the Charlos and Spence, they're quite aggressive fighters. That's the coaching style that Derrick James has and that's what we need to see from AJ again.
AJ can turn back the clock
We want him to go back to the old AJ that we used to know. I'm not saying it was brute force and ignorance, but it was close to that.
He's a big, big man and he just went and took people out. Dominated fights from the centre of the ring, going forward and being aggressive.
AJ's not a boxer. He's not fleet-footed, he's a wrecking machine and he needs to get back to that.
Can he turn back the clock? It's not going to be easy, but it's definitely possible.
We've seen fighters suffer defeats in the heavyweight division that they weren't expected to lose and come back.
Wladimir Klitschko – look how long he dominated the division after being knocked out by lesser opponents in Ross Puritty and Corrie Sanders.
Even the great Lennox Lewis lost to Hasim Rahman and came back in the next fight.
Fury and AJ can win back fans
The Fury-Usyk undisputed fight falling through could actually work out favourably for Joshua
Fury's in a position now where a lot of people are blaming him for that fight not happening.
A few months ago he was being lauded and is now facing a lot of criticism because of the antics and things he said around the proposed Usyk fight, and even previous to that.
Imagine if Fury now faces another Dillian Whyte or Derek Chisora-type opponent, nobody want's to see that.
I'm not saying a win against Franklin will automatically set up the Fury fight, but I would love to see a stern, clear call-out – 'I want Tyson Fury next'.
Fury might also be in a position now where he feels like he has to take that fight. He may feel AJ is an easier fight than the Usyk fight, which quite possibly it is.
I think it could all work in AJ's favour. It could also be a chance for both Britons to get people back on side as well.
A loss will leave AJ with regrets
We all saw Joshua's outburst in the ring after his loss to Usyk in Saudi Arabia last year. I'd say as soon as he did it he would have regretted it. He understands it wasn't a good look for him.
But the amount of pressure that has been on that man's shoulders was insane. It's been there from the very start, from turning professional as an Olympic champion.
People have their own opinion on Joshua but I have to say every time I've been around him he's always been so nice.
I was doing a podcast and was in New York for the first Joshua v Andy Ruiz fight. There was press everywhere trying to get him.
I approached the stage where I was hoping to get a few words with him and he pointed at me out of maybe 30 press that were around and told me to come round.
He spoke to me for about 10 minutes, probably to the annoyance of the other press there. But that is something I will always appreciate.
He's a great guy. He's someone who has taken criticism but when you are this superstar, people do like to see you knocked off the top perch.
There's a different type of pressure on him now in that his career is over if he can't beat Franklin.
A loss will leave him with many regrets. He will be thinking about those big fights – against the likes of Fury or Deontay Wilder – which never happened.
Carl Frampton was talking to BBC Sport's boxing reporter Kal Sajad