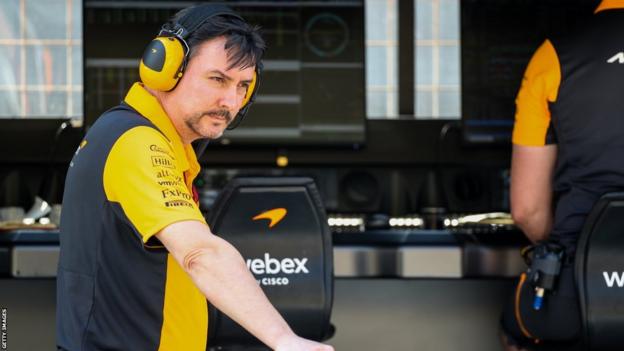 Technical director James Key has left McLaren after a difficult couple of seasons and been replaced by a new design-office structure at the team.
Key's role has been split into three separate technical director positions under team principal Andrea Stella.
David Sanchez joins from Ferrari to lead car concept and performance.
He is joined by two internal promotions – Peter Prodromou on aerodynamics and Neil Houldley on engineering and design.
<
All three will operate with the job title of technical director in charge of their own area of expertise. Sanchez will start work on 1 January 2024 after completing his "gardening leave" from Ferrari.
The changes, which the team emphasised had been worked on for months, come after McLaren slipped from fourth to fifth in the constructors' championship in 2022, and a dispiriting start to the new season.
The team admitted they had missed their targets over the winter, having failed to spot a development direction early enough, and are last in the constructors' championship after two races having suffered both below-par performance and poor reliability.
McLaren are hopeful upgrades scheduled to be introduced from the fourth race of the season will return them to a more competitive position.
Stella said: "Looking ahead, I am determined and fully focused on leading McLaren back to the front of the field.
"Since taking on the team principal role, I have been given the mandate to take a strategic approach to ensure the team is set on a long-term foundation, for us to build on over the years.
"This new structure provides clarity and effectiveness within the team's technical department and puts us in a strong position to maximise performance, including optimising the new infrastructure upgrades we have coming in 2023."
McLaren Racing chief executive officer Zak Brown said: "It has been clear to me for some time that our technical development has not moved at a quick enough pace to match our ambition of returning to the front of the grid.
"I'm pleased that, having completed a full review with Andrea, we are now able to implement the restructure required to set the wheels in motion to turn this around.
"These strategic changes ensure the long-term success of the team and are necessary to see McLaren get back to winning ways.
"We have everything coming into place now with our people and infrastructure and alongside an exciting driver line-up, I'm determined to see McLaren get back to where we should be."
Prodromou as technical director, aerodynamics, will be supported by Giuseppe Pesce, who has been promoted to director, aerodynamics and chief of staff.
Piers Thynne has been promoted from operations director to chief operating officer with the aim of supporting Stella in "innovating and elevating the standards at McLaren".
The restructure has been introduced shortly before key infrastructure projects at McLaren are due for completion.
These include the team's own wind tunnel, which is expected to be running by the summer. For more than a decade, McLaren have been using a third-party wind tunnel in Germany, creating both cost and logistical issues.