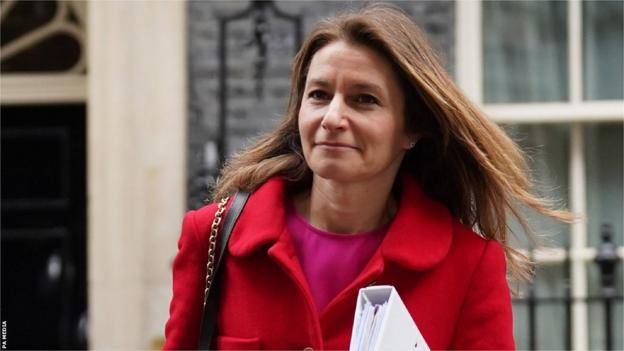 The International Olympic Committee says the UK government should "respect the autonomy of sport" after it asked sponsors to support a ban on Russian and Belarusian athletes at Paris 2024.
Culture Secretary Lucy Frazer wrote a letter to UK chief executives of the IOC's 13 worldwide partners saying the regimes "must not be allowed to use sport for their propaganda purposes".
"It is not up to governments to decide which athletes can participate in which international competitions," read an IOC statement.
"This would be the end of world sport as we know it today."
<
In February Frazer chaired a summit of 36 countries, including France, that released a joint statement pledging their support for ongoing sanctions at international sporting events following the war in Ukraine.
The IOC said: "It must be the sole responsibility of sports organisations to decide which athletes can take part in international competitions based exclusively on their sporting merit.
"In accordance with this, Olympic sponsors are not involved in this decision-making process.
"We hope very much that the British government will respect the autonomy of sport."
In January the IOC said it would "explore a pathway" for Russian and Belarusian athletes to compete in Paris.
Russian athletes were partially banned from Rio 2016 because of state-sponsored doping, but some competed as neutrals at Tokyo 2020.