Whether you're looking for a full-time indoor exercise machine or a seasonal addition to your home gym, the compact, easy-to-store Proform Carbon T7 can help cure the winter running blues — and keep you moving any time of the year.
Best of all, in addition to its smaller footprint, you'll get many of the same upscale features you'd receive with more expensive treadmills like the ProForm 9000 ($2,300) or NordicTrack Commercial 2450 ($3,000) — for a fraction of the price.
At just $1,403, the Carbon T7 may seem like a steal, however it's still an investment for cost-conscious consumers. Which is why I tested this treadmill for a week to see how it stacks up to its more expensive brethren, and whether it's worth a spot in your home. Here's everything you need to know before you, ahem, run out to buy your own.
<
If you've always wanted a treadmill, but didn't have the space or the cash for a larger machine — the ProForm Carbon T7 is a perfect compromise. No, it doesn't have the horsepower of larger, pricier treadmills, but you do get a wealth of advanced AI features as well as access to different types of classes with the iFit subscription (which is free for three years). And a smaller footprint paired with a budget price is nothing to sneeze at when you're thinking about adding to your home gym.
Compact size and simple storage

Unlike most treadmills, the Carbon T7 is the perfect size for apartment dwellers and first-time homeowners because of its compact design. And indeed, you don't need a sprawling McMansion to make room for it in your home. Proform's unique SpaceSaver design easily allows you to fold the deck up and stow it away vertically whenever you want. And, when you're ready to use it again, simply kick a bar concealed on the bottom of the treadmill to release the deck back down. The whole process takes less than five minutes and is super convenient. In fact, I used the Carbon T7 in my living room and consistently folded it up to make more space whenever my family was around.
The Carbon T7 also gives you access to the iFit library of streaming fitness classes, which adorns pricier models like the NordicTrack Commercial 2450 or NordicTrack Commercial X32i. Right now, ProForm is generously offering a free three-year iFit subscription with the purchase of every Carbon T7 treadmill. So you'll initially pay nothing to access over 9,500 streaming workouts including yoga, HIIT, bootcamp, strength training and, of course, thousands of scenic hikes, runs and walks through Mexico, Turks & Caicos, Mount Everest, and more. After that, a comparable family plan will cost you $39 monthly or $396 a year, while individual plans run $15 monthly or $180 a year — which all in all is quite a bit of savings.
You can even save your favorite classes in a calendar for future sweat sessions or sign up for weight loss programs and challenges on iFit to help stay motivated, as well as train for 10K, 5K and marathon races. I also loved having the option to create my own Google Maps workout, which allowed me to plug in my own destination anywhere in the world and map my own real-life running route with accurate topographical changes and live views. This feature enabled me to run through my old neighborhood in Santa Monica, CA, visit the Eiffel Tower in Paris and run through the Venice Canals in Italy — all in one day.
The Carbon T7 has two spacious cup holders, a 7" high-definition touchscreen and a built-in fan with four different power levels. It also boasts 2 built-in speakers with Bluetooth audio and a dock to place your device if you prefer to read a book or watch movies on your iPad instead of streaming workouts through the iFit library.
You can also adjust the incline or speed using quick-touch buttons located below the screen, rather than manually adjusting them to go up and down as you run. I found this especially useful while running at faster speeds, considering I tend to get distracted adjusting the incline and speed up and down when I'm pushing myself harder during HIIT or hill runs.
iFit also includes several smart features, like the SmartAdjust and Automatic Training. SmartAdjust follows and scales each adjustment that you make during your workouts, then stores the information internally. Going forward, it will then adjust the speed and incline to suit your personal fitness ability. The more often you run, the more closely the computer customizes your iFit classes in the prerecorded instructor-led hikes and runs.
For example, I was struggling to keep up with one particular instructor during a run through Costa Rica. But by adding SmartAdjust, I could more easily take this class again and still feel challenged. It's a cool feature that allows the software to get even smarter the more you use it.
The Automatic Trainer feature is a bit of AI magic which enables you to follow along with the instructor whenever they call out a change in speed or incline during your pre-recorded class — without touching a button. So, if your instructor is running a 7-mile run at a 2-incline, you will too (automatically). The treadmill's computer virtually does the work, freeing up your hands for more important things like guzzling water or waving frantically at your family to leave you alone until you're done.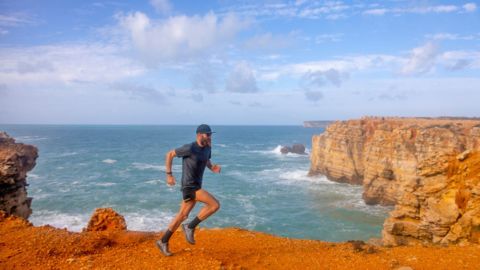 Full disclosure: I am not a big person. At 5'2", I'm always in the front row for pictures, I always need a step stool to reach the high shelf, and I'm frequently asked if my parents are home when I answer my door without makeup. So the fact that I felt cramped the first time I started sprinting on the Carbon T7 speaks volumes.
At 20" X 55," it was just about OK for someone my size but, as I said, I'm petite. So I can't imagine it would be extremely comfortable for a taller or larger person to run on this treadmill for an extended period of time. It may be fine for walking or jogging, but if you plan to do intense runs or interval workouts and you're six feet tall, you might want to see if you can try one before you buy.
It wasn't a total deal breaker but I didn't love that the HD touchscreen didn't swivel or move the slightest bit forward or backward. This was extremely frustrating during hybrid classes like the Bahamas bootcamp series, which required me to get on and off the treadmill to complete the class. This also became a problem when I tried to see the instructor's strength-training moves during the floor portion of the class.
Considering the touchscreen's larger size, it would have been nice to be able to move it around so I could take advantage of my extra floor space as well as iFit's pre-recorded strength training classes.
This is a mid-level treadmill with lots of extra features for a modest price point, but you do get what you pay for. The motor on the Carbon T7 doesn't have enough power to handle all-out sprints for extended periods of time, which doesn't make it a great choice for serious runners. AT only 2.6 CHP, the motor has significantly less horsepower than more expensive models like the NordicTrack 2450 and Proform 9000.
The Carbon T7 isn't the only mid-level treadmill on the market focusing on a space-saving design. Competitors like the Sole F65 offer a slightly wider and longer deck with a similar configuration. With a deck measuring at 22" X 60," the Sole F65 gives you a slightly roomier running space than the Carbon T7. However, there's no iFit subscription or tech features like SmartAdjust and Automatic Trainer, and it's a tad bit pricier at $1,400. You will, however, get a slightly bigger 3.25 CHP motor, which makes it better for more advanced runs.
Echelon Stride Auto-Fold Connected Treadmill is also a space saving machine and this treadmill folds into place with next to no effort — plus it's even cheaper at $1,000. However, unlike the Carbon T7, there's no touchscreen so you'll have to provide your own device if you want to stream workouts. There's also no built-in fan or AI features and very little data is recorded during your workouts, so the initial savings may not be worth it if you like to track your metrics while you run.
And then there's the Treadly, a no-frills foldable treadmill that retails for just $749. This extra-slim, portable treadmill is smaller and lighter than the Carbon T7, making it easier to store and hide away if you're even tighter on space. However, there's no touchscreen, no fan belt and no streaming class subscription, just audio/video games and a live community you can access online. You also can't run any faster than 5 miles per hour so don't expect to train for a marathon anytime soon.
If you're looking for all of the bells and whistles of a top-of-the-line treadmill or you're training for your next Ironman race, the Carbon T7 may not be for you. But, if you're a recreational runner or a parent like myself trying to squeeze in a workout in your spare time, this treadmill offers fantastic value with lots of extra features for a modest price tag.
There's plenty of variety, whether you're looking for scenic runs, hikes, walks, yoga, HIIT, strength training, bootcamps, Tabata, cooking classes and live races. And your whole family can take advantage of the free iFit subscription for up to three years, giving you plenty of options to keep things fun and fresh so you'll never get bored with your workout routine.