PALM BEACH, Fla. – Nikki Haley blamed President Biden and Democrats as well as also her one-time boss and current rival for the 2024 Republican presidential nomination, former President Donald Trump, over massive government spending.
In a speech Saturday to more than 100 top GOP donors huddled at an economic retreat hosted by the fiscally conservative group Club for Growth at a luxury beachside resort, the former two-term South Carolina governor who later served as ambassador to the United Nations during the Trump administration spotlighted the nation's exploding national debt.
"When I was elected governor, the national debt stood at $13 trillion. Thirteen years later, we're at more than $31 trillion," Haley said.
And she charged that "because of Joe Biden, we'll add $20 trillion more to the national debt in the next 10 years. Our children will never forgive us for this."
<
FORMER VICE PRESIDENT MIKE PENCE REVEALS HIS POTENTIAL 2024 ADVANTAGE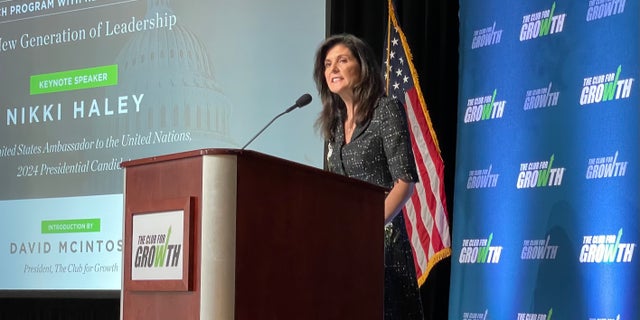 But Haley, who launched her 2024 GOP presidential nomination campaign last month, argued that while "obviously, the socialist left hates economic freedom…. so do some of our fellow Republicans. They bad-mouth capitalism almost as much as [Sen.] Elizabeth Warren. You'll near hear that from me."
DESANTIS, ADDRESSING TOP GOP DONORS, TAKES AIM AT SOME FELLOW REPUBLICANS
"It's insane that Joe Biden has gotten a free pass for this socialist spending spree. But a big part of the reason is that Republicans haven't held the line — or even upheld the conservative market principles they claim to support," she charged. 
And without mentioning him by name, Haley then targeted Trump.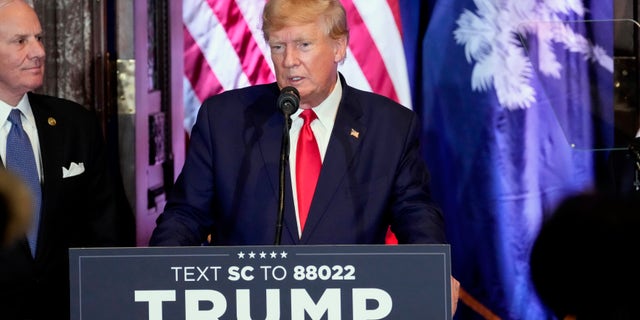 "Here's the truth. Lots of Republican politicians love spending and wasting taxpayer money almost as much as Democrats. The last two Republican presidents added more than $10 trillion to the national debt. Think about that. A third of our debt happened under just two Republicans."
In another dig at the former president, Haley told the crowd: "I know there's a Republican candidate out there that who you didn't invite to the conference. So I appreciate that you did invite me."
She also took aim at Republicans in Congress, claiming they "got the ball rolling on the trillion-dollar pandemic blowouts, with all the bailouts and fraud and abuse that followed," as she pointed towards the massive bipartisan spending bills passed by Congress in 2020 during the heights of the coronavirus pandemic.
SUNUNU PUSHES BACK ON DESANTIS CULTURE WARS CRUSADE AGAINST CORPORATIONS
"Don't let the media tell you Republicans and Democrats can't work together. They always seem to work just fine when they're spending your money," she argued.
Spotlighting those spending bills, Haley promised if elected president, she would "veto every single one of those items… I will stop the trillion-dollar spending sprees and halt our sprint toward socialism." 
She touted that "I'm not afraid to call BS on all the bailouts and handouts that are bankrupting America. And I'm not afraid to call out my fellow Republicans."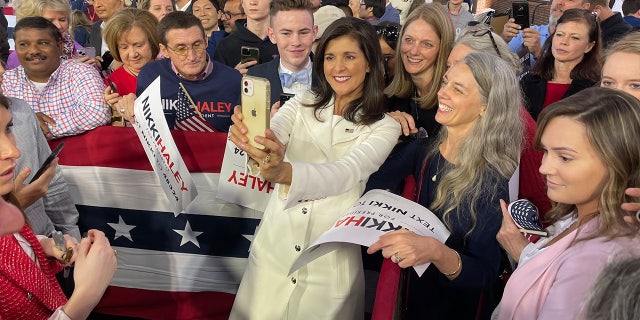 Haley was the first major Republican to join Trump in the race for the 2024 nomination. And to date no other major potential contenders have launched campaigns.
Speaking to the major donors in the audience, Haley said "don't wait around for the guys who are sitting on the sidelines unable to make up their mind. I'm ready now — and you are, too."
Three of those potential contenders — Florida Gov. Ron DeSantis, former Vice President Mike Pence, and New Hampshire Gov. Chris Sununu, addressed the donors at the Club for Growth retreat on Thursday and Friday. Another likely candidate – Sen. Tim Scott of South Carolina – speaks on Saturday night.
CLICK HERE TO GET THE FOX NEWS APP
Pence, in his address to the group, also highlighted the nation's out of control spending. Pointing to nation's exploding national debt in light of the recent birth of two of his granddaughters, the former vice president stressed that "I can't walk by the debt crisis our nation's facing and neither can you."
In an exclusive interview with Fox News, the former vice president said that "if I'm a candidate for president I'll use that platform to make it clear to the American people that we are headed to an unprecedented debt crisis in this country but that if we have leadership today, we can apply commonsense principles to it that would never touch anyone in retirement or anyone near retirement but would give younger Americans better choices than they have under these New Deal programs and try to light a pathway towards restoring fiscal integrity to our national government."