EDITOR'S PICKS

Sometimes, everyday products our editors use don't make it into our in-depth, long-form comparative pieces in which we vigorously test similar products head-to-head. That's where our Editors' Picks come in — where we highlight everyday products we personally stand by and use on a daily basis, and think you should too.
In February, we were introduced to a plethora of products, from high-end hair dryers to glittery nail polish. Some were forgettable, while others left a lasting impression. Because we're committed to spotlighting the best products out there, we've decided to curate roundups of our favorite products we try each month.
Keep reading to check out the products we tested and couldn't get enough of in February, or look back at our January favorites here.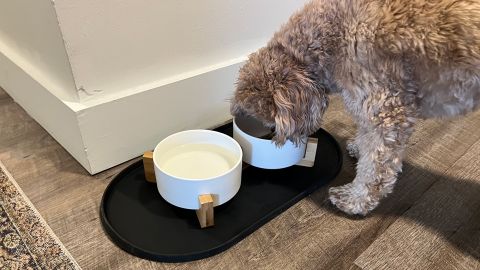 <
As cute as Teddy is, he makes one heck of a mess every time he eats his food or drinks water. The solution? Wild One's nontoxic and nonslip silicone mat that not only keeps his bowls in place and contains stray kibble and splashes of water but just looks really aesthetic too! The matching bowls are next on my Wild One shopping list. — Stephanie Griffin, social lead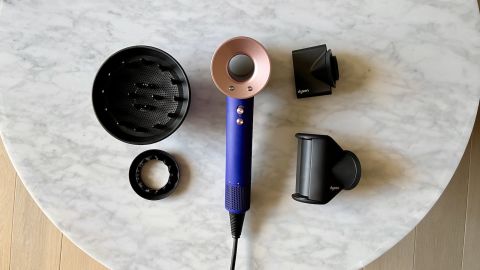 No, I haven't stopped talking about the Dyson Supersonic since I started using it. And yes, it lives up to the hype. This small but wildly powerful hair dryer has transformed my relationship with my hair. It's designed to protect your hair from extreme heat — and I've found it to dry my incredibly thick and coarse hair in record time. I've loved experimenting with the included attachments, which help style any hair. The biggest game changer for me: the flyaway attachment, which tames any pesky flyaway strands in seconds. — Emily McNutt, senior travel editor
I'm attending a beach wedding in March and my feet are in no condition to be seen by anyone. I grabbed the Dr. Scholl's Cracked Heel Balm on a whim and am so glad I did. This easy-to-use balm is perfect after taking a shower. It hydrates and moisturizes dry, cracked heels, and I'm already starting to see results after using it for a week. I absolutely recommend it before sandal season is in full force. — Lindsey Smith, associate editor
What's that intimidating, imposing black tower in this picture, you ask? Well, it's the best pepper grinder I've ever tried. From fancy cookware brand HexClad comes this fancy but excellent grinder, which has provided the best and most precise freshly cracked pepper I've ever experienced. With its own dial so you can cater the size of your pepper to each dish, a heavy build that makes it just feel like a luxury to handle and its own stand so you can always keep it handy, it's a dream gift for wannabe chefs — or just people who really love to cook and really love pepper. — Rachel Lubitz, senior lifestyle editor
As a fussy side and stomach sleeper, I've tried a lot of pillows, but somehow none of them felt quite right — until Coop came along. This pillow is completely adjustable; you can add or remove hypoallergenic memory foam and microfiber fill until the loft is perfect for you (it comes with extra). It's also super soft while also being supportive. — Chelsea Stone, senior editor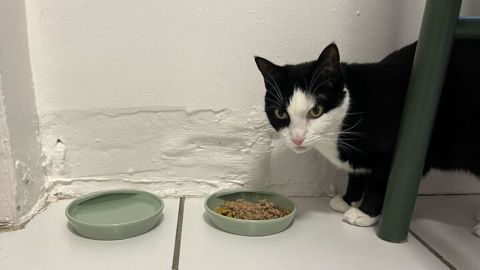 On my quest to spoil my cat as much as possible, these bowls are a rare item that I genuinely needed. They're small and shallow, meaning it's easy for my cat to graze comfortably, plus the lip on the bowl makes it easy for me to refill and clean the bowls without spilling. — Caroline Curran, associate editor
I'm a total linen sheets fanatic, and also a firmly anti-white-sheet individual, which means that I go bonkers for brilliantly colored bed linen whenever I can. Cultiver has been on my must-try list for a while, and this month I finally got the pleasure of trying out its duvet cover and sheets. And all I can say is: wow. Not only available in rich colors like mahogany, rose, baby pink and more, but right out of the box they're buttery soft. I went with a cedar brown duvet cover and blush pink sheets, which I think go together really nicely. You can't ask for a cooler-looking set than this. — Rachel Lubitz, senior lifestyle editor
It's no secret that Rare Beauty is hands down my favorite beauty brand. I've recommended so many products, and the With Gratitude Dewy Lip Balm is no exception. This hydrating balm is so creamy and leaves a beautful color on my lips. It's great when you don't want to wear lipstick and it lasts a long time. It's a much more affordable option than other brands and the quality is unparalleled. — Lindsey Smith, associate editor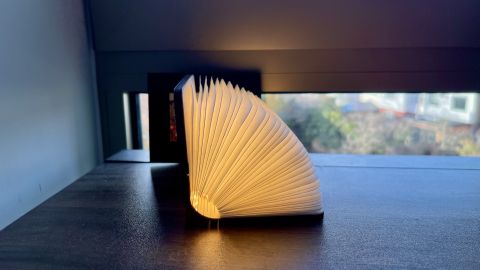 This small device has changed my at-home desk for the better. Designed to look like a book with a chic natural wood finish, this subtle design feature opens up to 360 degrees to light up a space. Once opened, the pages emit a soft light. It's perfect to use in a work space and even to use as a ring light of sorts for Zoom calls. I've found the rechargeable battery to last for hours on end, and the product comes with a USB charging cable to recharge when needed. — Emily McNutt, senior travel editor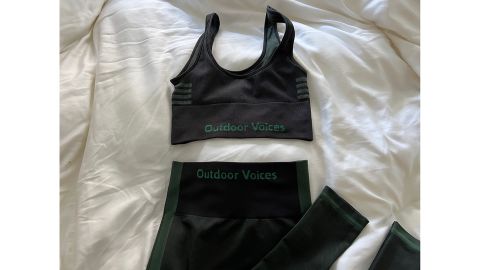 Outdoor Voices is hands down one of my favorite activewear brands on the market — its pieces are so durable and nothing ever pills. This set is from OV's new Seamless Smooth collection, and it's exactly like it sounds! It's a mid-weight fabric that's free of seams, and both the top and bottom truly slide on like butter. I love that no matter what I'm doing — whether it's a hardcore cycling class or a walk down the grocery aisle — it stays put in all the right places without ever feeling overly tight. — Stephanie Griffin, social lead
If you never thought applying sunscreen could be fun, let me introduce you to Vacation's new Classic Whipped. Not only is the packaging A++, the whipped cream-like texture is so innovated and fun to use for adults and kids alike. It's made with clean ingredients and provides broad-spectrum SPF 30 protection. It doesn't go on or dry sticky and smells amazing. If you're not good about wearing sunscreen, I guarantee you this will make you a fan. — Lindsey Smith, associate editor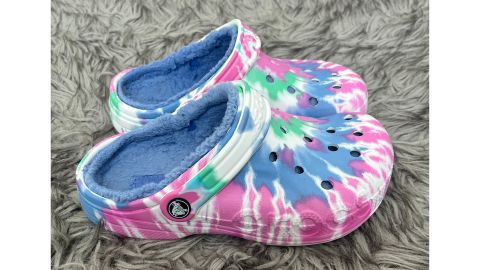 I bought these fluffy Crocs a couple weeks ago, and genuinely have no idea why someone hasn't bullied me into getting them sooner. My feet have never known softness like this. I can wear them with or without socks for hours while I do housework, and I even took them for a spin on the treadmill for a 30-minute power walk. I'm obsessed with the funky tie-dye colorway, and as soon as the snow melts, they're coming with me on every single errand. — Marissa Miller, contributing editor
As you can see, I have used this product up to the last drop. Yes, it's safe to say I am a Topicals Slather convert. I love the cocktail of AHA exfoliants with potent retinol that also moisturizes my skin. The word serum can be misleading if you tend to have drier skin because I don't feel like I need another layer of moisture after using this product. It worked particularly well on my back, smoothing out and treating the congestion and small breakouts I was experiencing. This product is a definite rebuy for me. — Natasha Hatendi, photo editor
Parade's bralettes have long been a favorite, but now the brand is finally entering the underwire bra space — and they've nailed it, which is surprising to no one. The bras come in six styles and sizes 32A to 46G, and they're made to be supportive yet comfortable. And of course, very cute in Parade's array of fun colors, alongside neutral black. The unlined Dream Plunge style that I tried is so soft it almost feels like wearing nothing at all. — Chelsea Stone, senior editor
DS & Durga makes unique and nuanced scents that inevitably garner compliments from friends and strangers alike, but somehow I wasn't aware of its car fresheners until now. Do I actually own a car? Of course not, but hanging this aromatic card by my desk is a small luxury for everyday life, and a relatively low-cost entry into the brand's world of gorgeous scents. — Caroline Curran, associate editor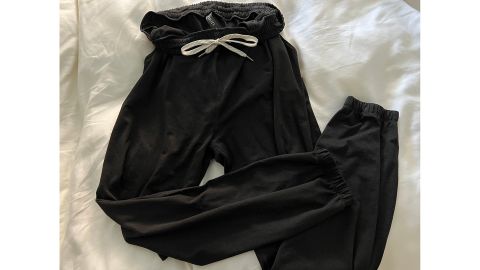 I think all brands like to claim that their joggers are the comfiest, but Vuori, this brand *actually* is. Made from a mix of recycled materials, they're just like what you'd imagine wearing a cloud would feel like. They're also designed with two side pockets, a mid-rise elastic waist and a just-baggy-enough fit, making it nearly impossible to ever take them off. — Stephanie Griffin, social lead
I recently switched my cat's food to Cat Person after spending hours researching healthier and tastier cat food for my feline friend. This brand contains real dehydrated salmon bits and has no fillers like corn, wheat or rice. He's also a big fan of the wet food that actually looks like what it's supposed to and not a congealed mess of goo and questionable "meat." Plus, our vet approves it, which is all the more reason to keep feeding it to him. — Lindsey Smith, associate editor
I never think these kinds of lash serums work, but CoverGirl has proven me wrong. I used to struggle with weak lashes that would fall out if I pulled on them too hard. After using this serum daily during my nighttime routine for the past few months, I have noticed a considerable difference in the strength and health of my lashes, and how effective treating my lashes with hydrating and moisturizing ingredients like peptides and castor oil can make a huge difference. — Natasha Hatendi, photo editor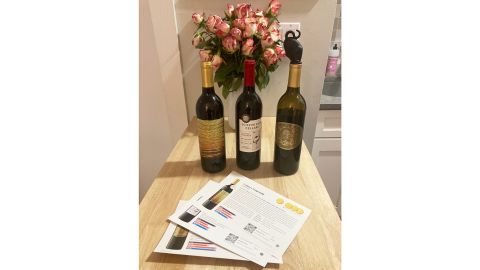 I've gotten to the age where a wine subscription sounds like just about the best idea imaginable. I'm not a huge wine connoisseur — my favorite is Lambrusco since it basically tastes like grape juice — but I do love trying new things and having people who actually know what they're doing show me the way. That's how I felt with this first shipment from Firstleaf, a wine subscription company that first gets to know what you like, then sends wines (many of which have gorgeous bottles, which is what I really care about second to the taste) that they think you'd like. So far in my first box of six bottles they've completely gotten me. All the reds are juicy and fruity, and the whites aren't too dry or sweet. All the bottles come with their own bios (like a dating profile but for wine) that tells you the level of sweetness, acidity and more you can expect. If you're looking for a fun activity with friends or you're just sick of getting the same bottle at the store every week, I can't say how exciting getting this package at my door was already. — Rachel Lubitz, senior lifestyle editor
One skin care product I will always splurge on is moisturizer. I've been using Fresh's Black Tea Anti-Aging Moisturizer all month and my skin looks so much more radiant. With more thabn 1,300 5-star Sephora reviews, this product really lives up to the hype. It's very moisturizing, and while a thick product, it melts into my skin and doesn't feel oily or heavy. I've definitely seen a difference with my fine lines as well and I am excited to keep using it to see how it transforms my skin even more. — Lindsey Smith, associate editor
I'm a fitness enthusiast and personal trainer with an at-home practice, so space-saving is key. These adjustable Bowflex dumbbells from 5 to 52.5 pounds make alternating between different weights completely seamless with the turn of a dial, and their built-in compact storage and floor protector adds a level of security and tidiness that one-off dumbbells don't offer. They're shaped ergonomically, which makes it easier on the grip to handle everything from higher reps to higher weight. — Marissa Miller, contributing editor
For the last few years, I've been working with one of those cheap metal dog crates that are noisy, hard to transport and just downright unsafe — does anyone else feel like they're going to chop a finger off every time they set it up or is it just me? Obviously an upgrade was needed and I'm so glad I went with Diggs. This 5-star-rated viral crate comes in four sizes and aesthetic colors, it's made from rust-free materials, it's completely collapsible, it comes with a carrying handle and wheels and it boasts a garage-style door that prevents injuries and is something I specifically noticed made my pup feel more comfortable. It's pretty much the opposite of my old crate, and I think every pet parent needs one! — Stephanie Griffin, social lead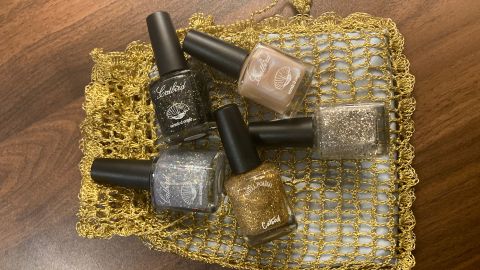 I mean, have you ever seen prettier nail polish? Underscored-favorite jewelry brand Catbird just launched a line of pearlescent, glittery, magnificent nail polish, and I can't get enough. With names like Spring Fairy, Baby Pearl and Sweet Nothing, the colors pair perfectly with the brand's sparkly jewels. They're great as topcoats or by themselves too. — Rachel Lubitz, senior lifestyle editor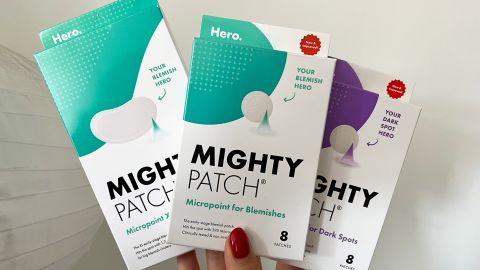 I've tried *a lot* of pimple patches in the past, and I will die on a hill saying that Hero Cosmetics is the only brand that actually works. This patch in particular contains 395 dissolvable micropoints as well as acne-fighting ingredients like salicylic acid and niacinamide that help bring pesky pimples to the surface and reduce swelling and redness in less than a couple hours. Also, since the patch is clear, you can wear it in public and no one will ever know! — Stephanie Griffin, social lead
Well, I finally caved. For years I've heard people rave about just how good Glossier You perfume is and I refused to totally believe it. I'm not the biggest fan of the brand's skin care or makeup, but peer pressure works and here I am, loving it completely. It's hard to describe as a fragrance, but one that garners more compliments and questions about what perfume I'm wearing from strangers than I've ever gotten in my life. With notes of pink pepper and amber, it's a creamy and fresh and just … try it. For a perfume it's quite affordable too. — Rachel Lubitz, senior lifestyle editor
I wore this earthy-colored workout set to several Pilates classes this month and I not only received so many compliments, but I was super impressed with how well the material stayed in place, despite lots of movement and sweat! Speaking of, the gorgeous, ribbed fabric is made with four-way stretch and moisture-wicking technology, making it so I never felt too hot or uncomfortable. The top also comes with a built-in bra — the girls that get it get it. — Stephanie Griffin, social lead
I've been looking forever for a pair of work pants that don't feel too stuffy and formal, don't have to be hemmed (I'm 5 feet tall) and can be paired with lots of different outfits. This month I finally found them. These tapered pants are perfect if you've got an hourglass figure, as they hit snug in the waste but billow slightly out to make room for the hips. They're short enough so that when I wear my Doc Martens they don't graze the floor and they feel buttery soft. Also: They can be machine-washed! I never thought I'd say I love the pleats in the front, but the way these hang makes me feel like Katharine Hepburn. If you're looking for new workwear, go and check these out ASAP. — Rachel Lubitz, senior lifestyle editor
I dipped into Metroid Prime Remastered thinking I'd relive my childhood for a few brief moments before moving on to the rest of my very long backlog of games. I'm now many, many hours deep, and refuse to stop playing until I've explored every corner of the planet Tallon IV all over again. This Nintendo Switch remaster does a perfect job bringing the 2002 GameCube classic to the modern age, adding sharper high-resolution visuals and intuitive new control options while leaving the rest of the game — with its dynamic combat, satisfying puzzle-solving and an expansive labyrinth sci-fi world to explore — untouched. It's a must for every Nintendo Switch owner, whether you're new to the series or want to experience this genre-defining adventure all over again. — Mike Andronico, senior tech writer
When it comes to naps, Teddy is very particular about where he sleeps, and pet beds aren't a one-size-fits-all if you ask him! That being said, we've had the Newton pet bed in our possession for several months and he prefers it over the several we already have (he's spoiled, I know!). It's extra comfy, spacious, doesn't trap heat and, best of all, it's machine-washable, so after lots of use, it still looks good as new! — Stephanie Griffin, social lead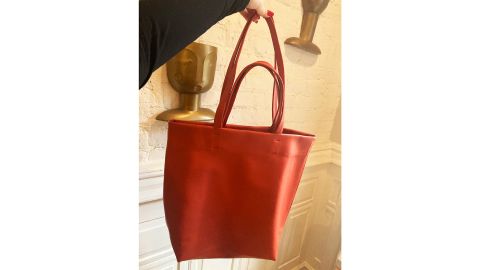 Finding just the right work bag for you can leave you feeling just like Goldilocks. For me personally, I needed a bag that was big but not too big. I needed straps that weren't too short but not too long either. I needed a bag that wasn't just plain black and boring but had some pizzazz and specialness to it. (I figure that if I'm going into the office I might as well make it fun.) I was lost in the internet world of totes and crossbodies when I finally found this perfect tote. Made of supple textured leather and featuring two straps, a snap closure and plenty of room for my laptop and essentials but not the entire kitchen sink too, it's been a dream to carry these past few weeks. It feels elevated and a little fancy without screaming that you spent too much, and I just love the bright color coral too. — Rachel Lubitz, senior lifestyle editor
I treat the products in my daily skin care routine like they're my firstborn children; I love them, I cherish them and it's rare they acquire a new sibling. But on my last Sephora trip, this Glow Recipe Dewy Duo sample set was included as part of the store's birthday rewards program and it may have earned a permanent spot in the family. The consistency of the toner is thicker than most I've tried and really sinks into the skin to rehydrate my freshly washed face. The Niacinamide Dew Drops left my skin looking so glowy that it felt wrong to apply makeup on top of it. Plus, both products have a delicious watermelon smell that makes them a treat to put on. I also love that they're available in mini and full sizes, since the small ones are great for travel. Hydrating enough to help fix my dry winter skin but also gentle enough to not cause any new breakouts or skin irritations, I think I'll be reaching for this Glow Recipe Dewy Duo next time my skin care shelf needs a restock. — Jillian Tracy, editorial coordinator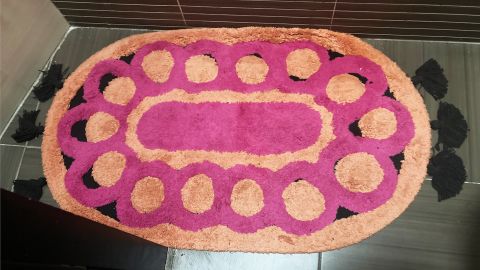 I've been on a long, long quest to find a great bath mat that isn't $75 and doesn't look like it's $3. I wanted one that was colorful, fun, put a smile on my face but still was just as absorbent as I needed it to be. It's taken me literally 10 years and finally, at long last, I found my match. I'm a huge fan of Jungalow's collection over at Target, and its latest release included this incredible bath mat that is plush, absorbent, exactly the right size and just honestly super cool-looking. I got it in the hot pink colorway since that's my vibe, but it adds such a gorgeous splash of color that every morning I get a little giddy that I own it. And it's just $25! What a steal. — Rachel Lubitz, senior lifestyle editor
Great Jones, which is known for its well-made and kooky-colored cookware, just launched glassware and I am très obsessed. The first two launches in the line are an extra-chic oil vessel and then these measuring cups that are truly the cutest measuring cups on the market. (Trust me I checked.) Available in contrasting blue and pink or green and yellow, they look just darling in your cabinet, and they're extra large, coming in both 2-cup and 4-cup sizes. They've already elevated my entire baking experience at home. — Rachel Lubitz, senior lifestyle editor
No matter how big of a Harry Styles fan I am, I hesitated at first to buy from Styles' beauty brand Pleasing — in large part due to his nail polish sets' $65 price tag. After splurging, however, I can firmly say they are heavily a part of my rotation, especially The Super Magic Family Time set. In unique, spherical-capped bottles, the set comes with pink, yellowish green, teal and base coat polishes; the vivid, retro-looking colors are perfect for transitioning to spring. Opaque after two or three coats — which I've found is standard among most brands — the polishes last at least a couple of weeks. The set also provides intricately designed, easy-to-apply nail stickers that stay on well after a top coat. And to top it off, Styles' formula and packaging is biodegradable, vegan and cruelty-free, which I always love to see. — Morgan Pryor, editorial intern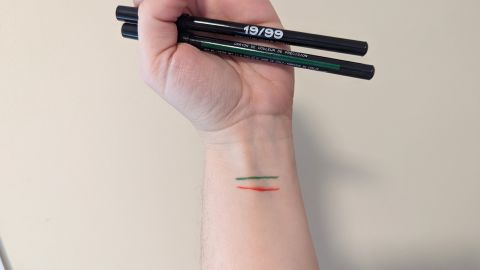 I've slowly been dipping my toes into wearing more colorful eyeliner and recently discovered the brand 19/99. The Precision Colour Pencil glides on so smoothly and the colors are so bright. I love that they can also be buffed out to a lighter pigment. These are also great because they're multiuse and can be used on your lips and cheeks. As with all the makeup I love to use, this brand is free of harmful ingredients and cruelty-free. — Lindsey Smith, associate editor
It seems like a no-brainer that you wouldn't willingly put harmful ingredients in your mouth, but most of us do that every day when we brush our teeth. I've been on a mission to swap out my normal drugstore toothpaste for an all-natural version that still fights against cavities but is gentle on my teeth — and the environment. Before's Purifying Toothpaste checks all of those boxes. The brand is also on a sustainable mission with the first-ever plant-based tubes and donations toward environmental initiatives. — Lindsey Smith, associate editor
Unless you've been living under a rock, you've probably seen this vanity case all over your social media feeds. And after finally getting my hands on a beige one, I completely understand the hype; it's aesthetic, incredibly high quality and super spacious, so if you, like me, have lots of makeup, you can fit all of it and more. Best of all? The case comes with spillproof compartments, making it possible to store your foundations, serums and other liquids upright, and brush storage to keep everything organized too! — Stephanie Griffin, social lead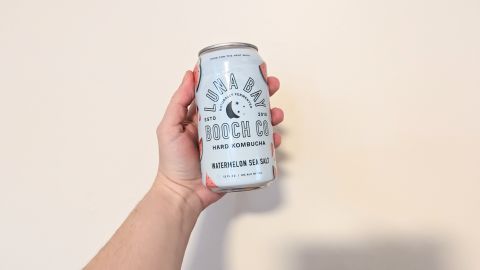 To summon warmer months, I've been reaching for refreshing hard kombucha and imagining I'm poolside soaking up the sun. Luna Bay is a women-owned small business that offers all-natural, gluten-free and non-GMO adult beverages in a variety of yummy flavors. I'm keen on the Watermelon Sea Salt, which tastes great on its own or mixed with juice. — Lindsey Smith, associate editor