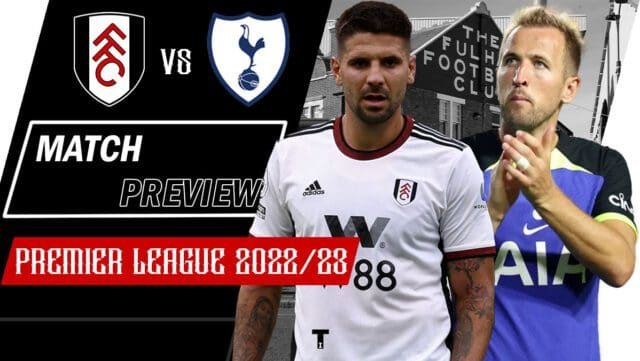 At around the halfway stage of the Premier League, matchday 21 involves an eye-catching battle in the race for European football between Tottenham Hotspur and Fulham.
Following promotion last season, Fulham have been flying in the league this season. Form-wise, The Cottagers' last game was a 1-0 defeat to currently 3rd-placed Newcastle. However, Marco Silva's side has produced 4 wins in their last 5 games. Spurs currently find themselves 5th in the league table, one place above Fulham. Antonio Conte and his players go into the game after losing in the North London derby and have produced a mixed range of results, with just 1 win in their last 5.
When and Where?
Date: 23rd January 2023.
Venue: Craven Cottage.
Time: 20:00 GMT.
Match Officials
Referee: Paul Tierney.
Assistant referees: Constantine Hatzidakis, Neil Davies.
Fourth official: Craig Pawson.
VAR: Michael Oliver.
Assistant VAR: Darren Cann.
<
Team News
Embed from Getty Images
With no new injury concerns following their journey to the North East, Fulham will be happy to have Antonee Robinson back after serving a one-game suspension. Robinson will take the place of Layvin Kurzawa as left-back. Neeskens Kebano's Achilles injury keeps him out for the foreseeable future, and Shane Duffy needs to get checked out after getting sick, but Silva won't want to make any changes to his team following an eight-day break.
The only player guaranteed to miss Monday's game for Tottenham is long-term tendon victim Lucas Moura, and Bryan Gil is questionable after suffering an injury. A few adjustments should be made for the Lilywhites as Conte has acknowledged that he will need to evaluate Rodrigo Bentancur and Dejan Kulusevski, who showed indications of weariness on Thursday after only returning from an injury. Richarlison is a candidate to fill in for the underwhelming Son Heung-min, while Ivan Perisic should make way for Ryan Sessegnon after a forgettable evening at the Etihad.
Match Analysis
Embed from Getty Images
The Cottagers typically line up in their regular 4-2-3-1 configuration, despite the tactical differences between attacking, defensive, and transitional formations. Although Silva's team blocks in a well-organized 4-4-2 to 4-4-1-1 formation, with the dynamic Brazilian moving forward to execute a man-oriented press from the front with Mitrovic, Andreas Pereira's fluid placement makes it difficult to hold down his structure on the defensive end. When he gets the ball back, he keeps it between the lines and looks for space whenever it's available, while Harrison Reed's box-to-box presence frequently puts him in front of Palhinha and the club starts to take on a 4-1-2-3 form. However, all of Silva's offensive and defensive strategies continue to be standard variations of a 4-2-3-1, and the club is less flexible than inflexible on that particular tactical spectrum.
Silva has created a strong central-midfield partnership with Harrison Reed and Joao Palhinha in front of the defence. The former plays the more defensively-minded, deeper-lying "Anchor" position, while the latter sprints up and down the field as the classic "Shuttler." Together, they help Fulham stay compact and can make the crucial counter passes. These passes typically err towards Bobby Decordova-Reid and Neeskens Kebano on either flank when not delivered into the big man up top. The two wide men offer a direct presence down the wing as well as the ability to cut inside and make a goal attempt. Mitrovic's physical presence has been utilised by Silva to increase his participation in defensive phases while keeping the brilliance he can radiate in the attacking third as that focal point up top. However, Fulham's start to the season has been incredibly encouraging from all angles, particularly in getting the best out of their star centre-forward in ways the Cottagers failed to do last time out in the Premier League. They still have some kinks to work out in fully enacting his brilliance at top-flight level.
Conte frequently keeps to his tried-and-true 3-4-2-1 formation, which heavily emphasises getting the ball deep within the Spurs' half of the field and dominating the opposition by, for example, stacking one side of the field. By outnumbering the opposition by three to four players, they can create openings and pass lanes that the attacking three can take advantage of. Kane frequently drops deep to pick up the ball and play between the lines. Conte prefers to use a more offensively minded centre back in the middle of the field with the three central defenders. This player is known as a libero, a phrase used to describe a ball-playing defender who is charged with playing higher up the field to force the ball forward. They are fortunate to have players like Pierre-Emile Hojbjerg who can fill in for this position's shortcomings and serve as the anchor to strengthen the back line.
As one of the most feared front three in the Premier League, this is regarded as the huge X Factor of the Tottenham team. Son and Kane have been a deadly team for years and have developed a strong bond that permits them to play freely. The connection between the two players is obvious throughout every game as they frequently pick each other out for opportunities that have ultimately resulted in many goals. Add the explosiveness of Dejan Kulusevski and the rotation of Richarlison, and you have a front three capable of breaching many defences.
Key Players
Aleksander Mitrovic
Embed from Getty Images
A killer number nine, Mitrovic should always be a player to fear. Currently, on 11 goals, only three players have scored more than the Serbian and he's showing no signs of stopping to climb the charts. Although Mitrovic has always been powerful in the air, his ability to target full-backs and his teammates' ability to find him have greatly aided him. As a result, he nearly increased the percentage of his goals last season that came from headers compared to his Championship season before it. Against Spurs, they could face a nightmare in trying to stop Mitrovic from sniffing out the danger.
Harry Kane
Embed from Getty Images
Similarly, Spurs' number nine will also be a crucial factor that could easily decide the result of the game. With 15 goals in 20 games in the league this season, only the robotic Erling Haaland has scored more than Harry Kane and as well as the ability to ramp up goals like nothing, the Englishman's ability to create and provide his teammates with chances just as well as he can finish them himself is something that makes Kane a world beater and a player who can single-handedly punish any team.
Predicted Lineups
Fulham predicted lineup vs Tottenham Hotspur: Leno, Tete, Diop, Ream, Robinson, Palhinha, Reed, Willian, Pereira, Decordova-Reid, Mitrovic.
Tottenham Hotspur predicted lineup vs Fulham: Lloris, Romero, Dier, Lenglet, Royal, Hojberg, Bentancur, Perisic, Kulusevski, Son, Kane.