A new tweet from "Harry Potter" author J.K. Rowling went viral over the weekend after exposing protesters calling for violence against "TERFs" or "trans exclusionary radical feminists" at a transgender rights rally.
In a tweet on Saturday, Rowling posted photos of Scottish National Party Members of Parliament Alison Thewliss and Kirsten Oswald and Member of the Scottish Parliament Kaukab Stewart taking part in the demonstration in Glasgow, Scotland. Behind the women, people were holding signs displaying messages such as "I Eat TERFs" and "Decapitate TERFs," the latter featuring an image of a guillotine.  
"A few of Scotland's wonderfully progressive and kind politicians, posing proudly in front of banners calling for women to be decapitated and eaten," Rowling tweeted.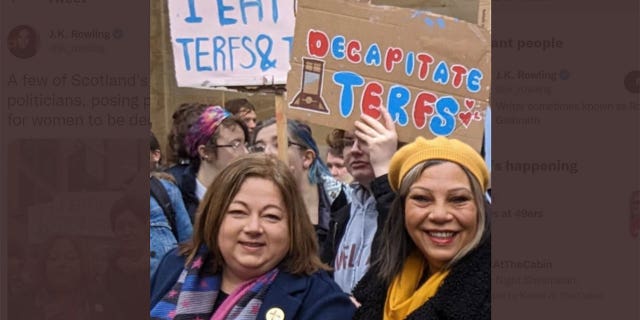 The pictures along with the phrase "Decapitate TERFs" went viral with several social media users calling out the signs as well as the parliament members for standing beside them.
SAM SMITH CALLED FOR BRIT AWARDS TO GO GENDER-NEUTRAL, NOW SAYS IT'S A 'SHAME' NO WOMEN NOMINATED THIS YEAR 
"Whose side are the Vegans on?" comedian John Cleese joked.
"I would say they've eaten too many terfs," Washington Examiner columnist Ian Hayworth remarked.
Toronto Star staff columnist Heather Mallick wrote, "What on earth has gone wrong with the Scottish government? I'm not sure my late mother would want her ashes scattered there now. Am bedevilled, looking for Canadian lakes, an Ontario sapling, but the Hebrides is off my list right now. Turning into a bit of a personal crisis."
Independent Women's Forum senior analyst Inez Stepman tweeted, "Generally think women often downplay the power they wield over men but it does seem like a certain type of (AGP) [autogynephilia] transsexual is just horny for the opportunity to be violent towards women."
"Horrible — the 2023 version of people deeming troublesome women witches to be burned or drowned. #IStandWithJKRowling," advice columnist Amy Alkon tweeted.
The Daily Telegraph columnist Michael Deacon joked, "Can't believe my favourite children's author thinks beheading women is bad. What sort of example is that to set my children."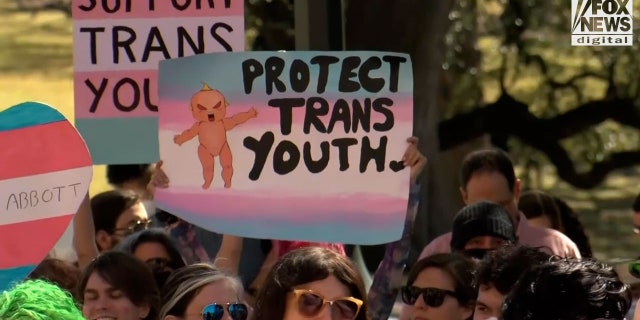 MISGENDERED TRANS TEEN REPORTEDLY SEX TRAFFICKED AFTER MD COURT DENIED FAMILY REUNIFICATION: 'WORST NIGHTMARE' 
In separate tweets, Thewliss, Stewart and Oswald condemned the signs and insisted that they were not aware of what they said when the photos were taken.
Stewart wrote, "I was not aware of these hateful signs when I attended today's protest in defence of Scottish democracy and the rights of trans people, and I utterly disagree with them. Violent hate speech is totally unacceptable and has absolutely no place in our public discourse."
"I have many qualities, but having eyes in the back of my head isn't one of them. If I had seen the sign you're referring to, I'd have told the person involved how inappropriate and offensive it was, and to get rid of it," Thewliss tweeted.
"That's a horrific sign, and it wasn't there when I joined the demo. It most certainly doesn't represent my views, and isn't language I would ever use. Violent hateful language, of any kind, is unacceptable and has no place in the peaceful movement for LGBT equality and democracy," Oswald argued.
Rowling called out these comments in a later tweet on Sunday.
"A strange new form of temporary blindness has broken out among Scottish politicians. None of them could read placards calling for violence against women while standing inches away from them, yet they were instantly cured when photos of them posing with the signs hit the press," Rowling wrote.
Rowling has previously received backlash as a "TERF" from left-wing Twitter users and LGBTQ activists for her stance on transgenderism, particularly her perspective on women-only sports teams and facilities. She has been frequently labeled as "transphobic" despite her defenders pointing out that none of her comments have attacked transgender people.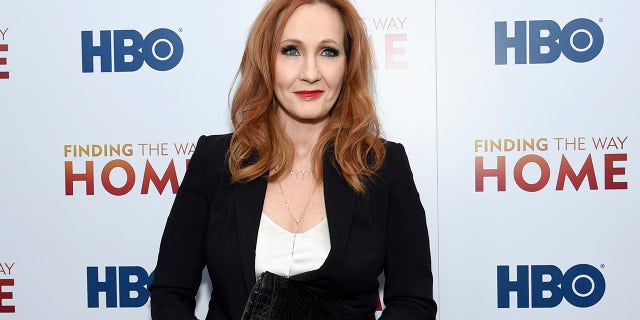 CLICK HERE TO GET THE FOX NEWS APP
After the images went viral, Scotland police announced the launch of an investigation into the "hateful" banners displayed at the demonstration.