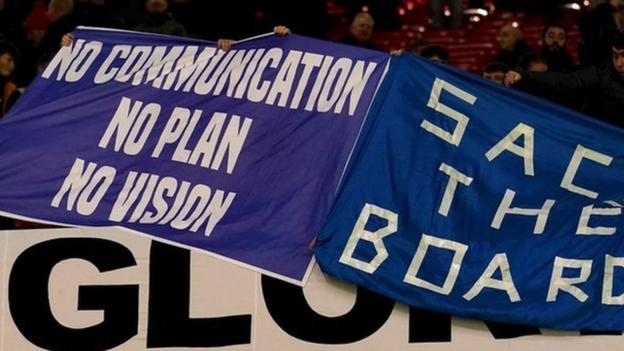 Everton's board of directors will not attend Saturday's Premier League game against Southampton because of a "real and credible threat to their safety".
The club said the directors were advised not to attend Goodison Park following "threatening correspondence".
Everton sources said club chief executive Denise Barrett-Baxendale was manhandled by a male fan after last week's 4-1 home defeat by Brighton.
"This is an unprecedented decision," a club spokesperson said.
<
"Never before has our entire board of directors been ordered not to attend a match on safety grounds."
Everton fan groups planned to protest at the 15:00 GMT match.
Everton said there have been "increasing incidents of anti-social behaviour, including targeted physical aggression" at recent home games.
They said the board "reluctantly accepted the outcome of the safety assessment carried out by security advisors".
Everton are 18th in the table, have not won in eight matches in all competitions and have been knocked out of both domestic cup competitions.
The Toffees narrowly escaped relegation last season and dropped into the bottom three after the loss to Brighton.
This month the Everton Fans' Forum wrote an open letter to owner Farhad Moshiri asking for "sweeping changes at chair, board and executive levels".
In response to the letter, Moshiri said he had faith in manager Frank Lampard and the directors.
More than 67 fan and social media groups, plus 21 official supporters' clubs, have combined for the #AllTogetherNow campaign.
For Saturday's fixture against Southampton, Everton fan groups said they would back Frank Lampard and the team with "full-blooded support" during the game.
However, they planned to stage a sit-in protest after the game with banners to "highlight Farhad Moshiri's failure to change and strengthen chair, board and executive positions at the club".
Following the club's statement on Saturday, the Everton Fans' Forum said: "Everyone involved in our campaign and indeed every reasonable Evertonian utterly and completely condemn any threats to any Everton employee and/or officials and directors of the club."