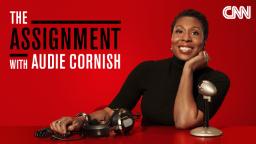 Hey there, folks. It's a brand new year. And typically that means it's a time for reflection and goal setting. And I wanted to do that and I wanted to do that with you. I mean, 2022 didn't go exactly the way I thought it would, R.I.P. CNN+. But in the end, I still got to start building a community of interesting people and ideas. And that's what the Assignment is all about. And I can't thank you enough for being part of it.
So today I'm going through our mailbox and listening to you.
<
My name is Brooke Townsley.
My name is Anne John and I just have to tell you…
Hi, my name is Sean McNamara. There's something going on over here in Arizona that might play into a bigger…
I'm Audie Cornish and this is the Assignment. In our first six episodes we've covered everything from the OnlyFans economy to the travails of progressive district attorneys. And it's not always easy getting people to talk to you for a completely new show. But our guests so far have been both generous with their time, forthcoming with their personal stories, and patient with me and my team.
Sorry, I can't hear you. I'm so sorry.
Sorry. Okay, get out your pen and paper.
The only weird thing I'm going to ask is that during the conversation, please go ahead and say this is Amy or this is April, and I wanted to add X, Y and Z. And that's just an audio thing because people can't see you.
All right. Well, are you guys ready to go? And then I'll just-
I want to make sure the team is ready with their recording. I'm not supposed to press any fancy buttons, am I? Okay. Here we go.
And the responses to those stories have been pretty passionate. For example, a few of you strongly agreed with our newly elected school board moms that sexuality and gender identity is not a topic for the classroom. One caller wanted to know why, in our episode about intergenerational trauma, we didn't discuss racism as a form of mental illness, not just something that impacts mental health. But mostly you've all been really encouraging.
I was so moved by the Assignment. Everything that was covered really affected me very personally.
I just have to tell you that I absolutely adore the Assignment. I've been listening to every episode of it.
I really enjoy your new podcast.
As for what's coming up, well, we have a few ideas. But you, our listeners have sent us some pretty great ones too. From the health care industry…
I would love for you to look into private equity's increasing role in health care.
To the impact of artificial intelligence on labor…
These bots are really making it difficult to get to a human being and in some cases I don't think they're necessarily finding the correct talent.
We're an R-rated puppet theater company. We do shows like 50 Shades of Felt, Die Hard: A Christmas Story, Jurassic Puppets…
Not to mention incurable insomnia, the decline of civil discourse and the relationship between gun control and suicide. Listen, we are reading all your assignments, so please keep them coming. And if you don't already know, you can leave us a message and a voicemail at 2028548802 or record a voice memo on your phone and email that to us at theassignmentcnn, all lowercase, at gmail.com. And before we go, here's a sneak peek at next week's episode.
Everyone wants to put COVID behind us and say it's over. But now we have maybe ten-plus million people who could be dealing with long COVID. This is not something we can just forget.
And that's all for this week. Full episodes of the Assignment return next week and our resolutions in 2023? Have more great conversations and to hear from you. So thanks so much for listening. Have a happy New Year.